The Bottlelight Company is a family-run company that was founded in 2010 by the engineering company Dr. Kitzenmaier, then with the special focus on developing and producing lights.
Dr.-Ing. Peter Kitzenmaier is specialized in electronics, medical technology and later in patent engineering, wherein he's partner of the patent law firm Schieber & Farago, München.
The product development we carry out by ourselves, based on the latest state of technology and with further innovations. Some of the innovations led to patent rights which could be gained.
The production takes place as well in our company which we try to make as efficient as possible. For printed circuit board assemblies and turned parts we use nearby suppliers.
Our sales department was oriented internationally at an early stage by introducing multilingual printed packaging and operating instructions and by corresponding sales activities in respective foreign countries. A small subsidiary, BOTEC-USA, Inc. was founded in the USA in 2014.
Through various social evenings, a row of empty wine bottles had accumulated in our spacious eating kitchen. The bottles had nice glass emblems and labels and still exuded a certain cosiness and harmony that we had experienced during the evenings we had with our friends.
My later wife and I were torn as to what to do with the bottles – throw them away or how we could use them otherwise? So, my wife Odonchimeg and I had the idea turning the bottles into lamps, and so we started together first developments and a little production with good motivation to get everything done. Water and wine bottles are an old, familiar and very important cultural asset for us humans – in recent times these are unfortunately becoming disposable – we want to counteract this as much as possible.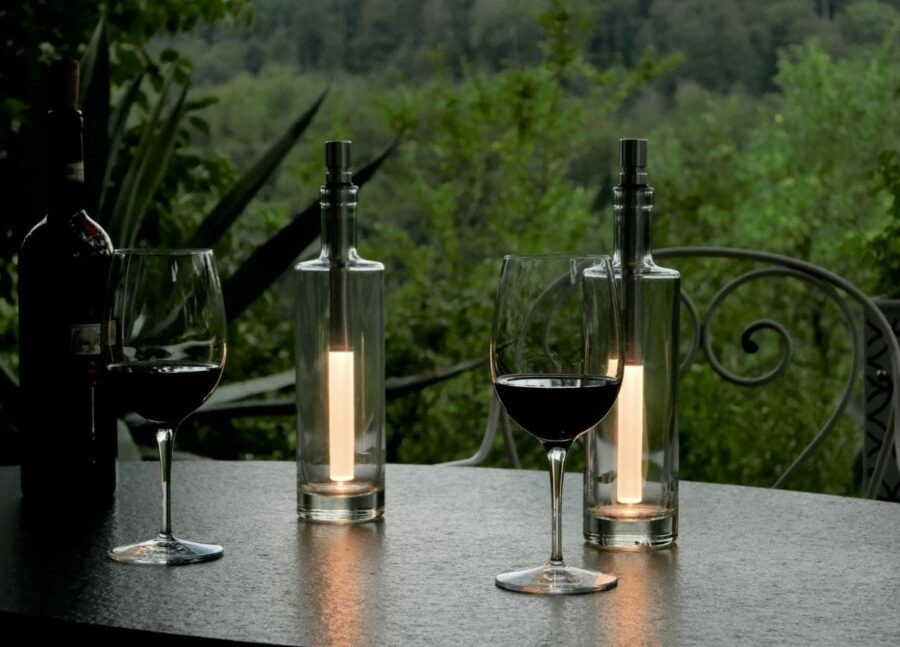 In 2010 we first developed the Bottlelight pendent lamp model BOT01 for wine and champagne bottles, onto which any wine bottle should be easily attachable. A patented mechanism was developed that allows the respective wine bottle to be simply attached, securely held and easily removed and exchanged. The LED-pendent lamp was able to generate a brightness of up to 300 lumens with an operating time of at least 65 000 hours. A redesign in 2020 (model BOT01-V3) enables further decisive advantages, such a more efficient assembly during production, an exchangeable LED unit and a brightness of up to 800 lumens, depending on the power supply.
At the same time, in 2010 we developed the battery-operated Bottlelight bottle light model BOT03 and launched it on the market. The bottle light fits into almost all wine bottles, has an operating time of 120 hours per battery or rechargeable battery set and is also suitable for outdoor use. One objective was to use as few components as possible in a robust mechanical and electronic design. A model with warm white LED light and a model with cold white LED light were offered. The bottle light should have a subtle design to let substantially the bottle appear as an illuminated one. Since then, technical improvements have been continuously updated according to the latest LED technology.
In 2014 we brought the bottle light model BOT05 viviLED ® ™ onto the market, with an adjustable the light colour in white or colour and with an adjustable brightness. The lamp could still be kept waterproof and rainproof. The technical development challenge was high, but we accepted it with even more interest. A small high-tech product was created and made ready for production. We are still happy to receive here and there astonished looks because of the somewhat magical control functions.
In 2015 we launched the extra-bright and dimmable bottle light model BOT04 as versions with warm white or cold white LED light. Compared to the BOT03 model, the electronic has been improved, especially with regard to better use of rechargeable NiMH battery cells.
In 2016 we brought the battery replacement module BOT06 onto the market, with which all Bottlelight bottle lights can be continuously supplied with power via a USB power supply. This is interesting for permanent installations. We developed the table lamps BOT09 for use with the Di-Potter lampshades.
Since 2019 we have had high-quality handcrafted glass bottles in our program, which we have made in cooperation with glass engraving studios. In connection with our bottle lights, these bottles appear particularly beautiful and noble on tables.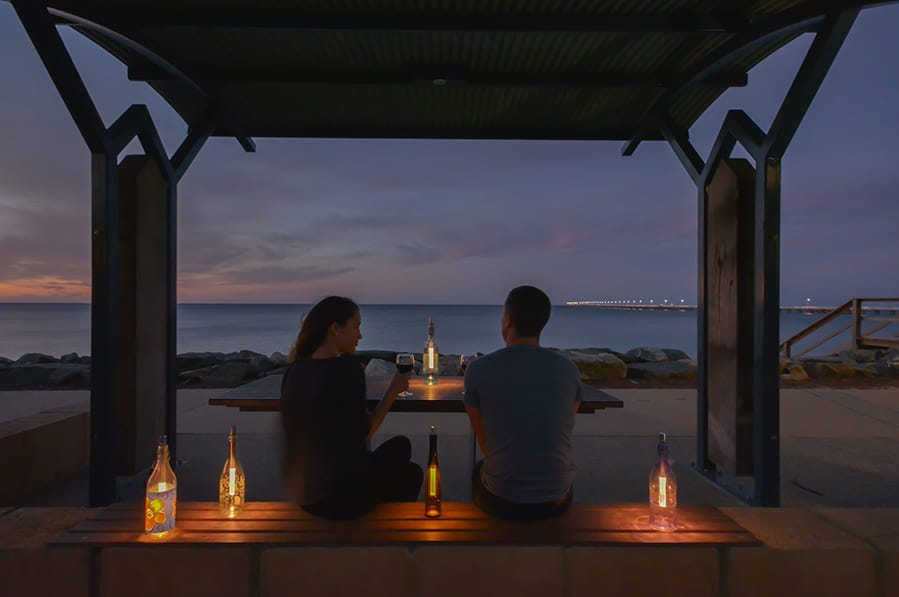 In 2021 we launched the rechargeable Bottlelight bottle light model BOT07, which features a new technology with a touch sensor. Special is the comfortable charging feature, in that the charging adapter can be placed on the lamp and sticks magnetically. The touch sensor functionality for On/Off and dimming works even during the charging adapter is connected. As rechargeable battery a NiMH battery with a particularly long service life is permanently installed.
Collaborations with glassblowing companies from Murano allow us to expand our range of products to include beautiful, hand-blown Murano glass bottles.